This post could be called 909 Social Media Business Post Ideas as there are endless lists of ideas out there. However, I am sure I'd either loose your interest or, even worse, overwhelm you!
You need content. Between Facebook, Instagram, Twitter, etc. I could easily make this list long! Sometimes though figuring out what to post can be tough! It's almost like getting writers block, after a while you just don't know what to post anymore. Let's look at 9 simple content ideas your business can use today.
You have to post, and often
Yup, 3 to 5 times a day is the magic number all while not being spammy! The key rule here is quality! Quality over quantity and know your audience. Check your insights, when are your followers online? What are your best times to post? When your followers are online, that when to schedule your social media posts!
So then, let's look at a few ideas you can use freshen up your business feed today!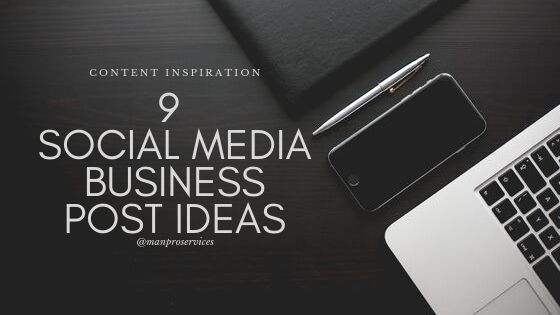 9 Social Media post ideas for your business
Social media is great for all types of businesses whether product or service based, just make sure you choose the platform that suits you best. Whether you offer products or services, and no matter the platform, here are a few ideas that will work for all industries!
Customer/Client reviews and/or testimonials
Take a your customers and/or clients for a look "behind the scenes"
Show off your staff (with consent of course)
Throwback Photos! Show your biz/office when you first got started!
Highlight a "Product (Service) of the Week"
Celebrate the big and the small holidays (example, National Coffee Day Sept 29th)
Inspirational and/or Motivational Quotes
New Products (New Services)
Photo of the Day (this could be a blog post on it's own! Get creative here)
That's 9, but like I said it could be 909! I'll bring you more another day! For now, these 9 will give you something to drum up for the week.
Get creative!
Be creative in your posts and make sure hey follow your brand guidelines.Take high quality and attractive photo's (watch what might be lurking in the backgrounds). Using the right content in your posts will help build a story around your brand. And remember to be consistent with your posts and platforms.
Thank you for taking the time to read this! Reach out if you have any questions or need any of our services. We are content junkies, check out out last blog post!.

At ManPro Services, we are your content specialists. You have a business to run, let us help you with your content needs across most social media platforms, websites, whitepapers, documents, blog posts and more!