g Suite. Get more work done, faster.
If you're looking for an Email platform for your business, look no further than G Suite.
G Suite is a cloud based productivity suite for your business. It is the best platform to help get your work done from anywhere on any device. Get more work done, faster!
More than 5 million businesses use G Suite.
Your business can be one of them.
I have personally always been a fan of Google and all its wonders and of course I will say Gmail is my favorite email platform. As it connects to so many wonderful applications from Google and it is easy to use. Google applications include; YouTube, Goggle+, Analytics, Google play, Google Maps, Google Drive, Google Docs and MORE! And now with G Suite, you can expand even more!
Why G Suite?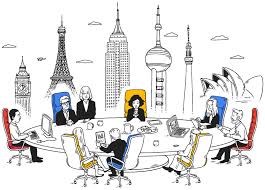 Look professional with Gmail. Get a custom email address (yourname@yourcompany.com) for your company website and get a TON of storage space (30GB to be exact). Gmail is compatible with Microsoft Outlook and other email clients as well.
The Google Calendar feature let's you schedule meetings at times that work for you. BONUS: get schedule reminders directly to your Gmail inbox so you're never late again (maybe).
Then there's Google Drive. Store and share documents in the cloud. Save files and access them from any device, collaborate in real time. View different file formats without buying extra software!
PLUS, you get 24/7 support. You're one phone call away from Goggle experts with all the advice and support you might need. As most business, you work on a budget. With G Suite, pricing starting at ONLY $5 CAD. Budget approved.
The best part? You can try it before you buy it! Sign up for a 14 day FREE trial!
Google is already fantastic, and now, it's even better. So give it a go for your business.